Erdős Renée-House - Exhibition Hall
- Budapest
Address:

1174, Budapest Báthory utca 31.

Phone number:

(1) 256-6062

Opening hours:

Temporarily closed.
Museum tickets, service costs:
| | | |
| --- | --- | --- |
| Ticket for adults | 300 HUF | |
| Ticket for students | 150 HUF | |
| Ticket for pensioners | 150 HUF | |
Erdős Renée (Érseklél, 7 May 1879 - 9 July Budapest 1956) she graduated from the Academy of Dramatic Art of Budapest in 1897. She published her first volume of poetry titled 'Dreams of Girls' in 1899. She began his career with brave and erotic poems, which made her famous instantly. Ady called her a 'Genius Poet Girl'. She had a long emotional relation with Bródy Sándor who tried to commit suicide in Vienna after their brake up. She lived in Florence from 1904 to 1905 and in Rome from 1905 till 1914.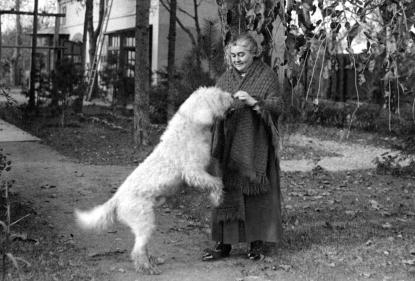 She worked was the 'New Press' and was a correspondence from Vienna, Rome and Florence. She converted from Hebrew to Catholicism in Rome in 1909. Her first husband was the arts historian Fülep Lajos. After returning home, she worked for the New Press from 1914 to 1932, but also worked for the Alkotmány (Constitution), in 1917-19, in 1927-32 for the Pesti Napló (Pest Diary), in 1932-38 for the Politikai Heti Szemle (Political Weekly Review). Her topics were love relations at the beginning. However, her late works were more concerned with her baptism. She was the mostly read bestseller writer in the 1920's. She translated the Legends of St. Francesco, (Fioretti Bp., 1911), she published with Sík Sándor. Her most popular novels were 'The Grand Scream', 'The Cardinal Santerra', The Marriage of Lavinia Tarsin', 'Ave Roma!, I-II', 'Lace of Brussels', 'Guest from India'.
Erdős Renée bought her mansion in Rákoshegy in 1927. Later she mentioned the time she spent there as her best time of her life. In the forties, she could only publish her works under a pseudonym due to her origins. The last document she wrote in Hungary was dated to 31 March 1944 written to the primate Serédi Jusztinián. She asked him to stand up for those Jews show converted to Catholicism. She was hiding during the dangerous times in the country. She never returned to Rákoshegy but moved to Budapest.