Museum of the Royal Palace at Gödöllő
- Gödöllő
Address:

2100, Gödöllő Grassalkovich Kastély

Phone number:

(28) 420-331, (28) 430-864

Opening hours:

01.04-31.10.: Mon-Sun 10-18

09.02-31.03.: Tue-Sun 10-17
Museum tickets, service costs:
Ticket for adults

(60-70 min.)

2200 HUF

Ticket for adults

2900 HUF

Ticket for students

(60-70 min.)

1100 HUF

Ticket for students

1450 HUF

Ticket for pensioners

(60-70 min.)

1100 HUF

Ticket for families

(60-70 min.)

4600 HUF

/ family

Group guide

(1-9 people)

2800 HUF

/ group

Group guide

(10-25 people)

3300 HUF

/ group

Group guide

(1-9 people)

5300 HUF

/ group

Group guide

(10-25 people)

6500 HUF

/ group

Audio guide

800 HUF
The Pavilion on Royal Hill is the only remaining Baroque building in the Castle Park with portraits of leaders of the Original Settlement and Hungarian kings. The hexagonal building, 200 meters from the castle, was built by Antal Grassalkovich I in the 1760's. In the 17-18th century, lodgings of lords were often made look like galleries. It was partly to express their nobility, partly to show their history in pictures. The peculiarity of the pictures in Gödöllő is that Grassalkovich had a separate building built for them and wished to recall the complete history of the country. The pavilion was built on an unnatural hill called the Royal Hill.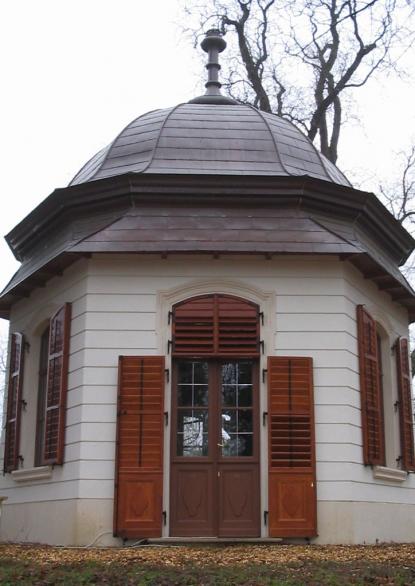 The 54 oil paintings show the kings and leaders in unified frames made. The portraits of more important reigns are larger and are put on a more important place, over windows and doors. The first picture is that of Attila over the north entrance. Under it, the picture of the leader Keve is hung. The following portrays are to the right in chronological order.
Part of the pictures were damaged during the War of Independence of 1848-49. The new owner, the count Sina Simon had it reconstructed in 1857, when Franz Joseph I was to visit the pavilion. He ordered copies of the damaged pictures and added new portrays of reigns who rules after the last picture was made.
In the royal period, the pavilion was open to visitors. After the death of Queen Elizabeth, the portrays were moved to the Buda Palace from where 14 were moved to the National Museum. However, we are not aware of the whereabouts of the rest of the pictures.
The building was recosntrucred in 2002. The pictures were reproduced with photo technology. Colored pictures made based on sketches of the missing ones were placed next to the remaining pictures. The royal pavilion was reopened in December 2004. The visitors need to purchase tickets to visit the museum where guided tour awaits them.