Museum of the Royal Palace at Gödöllő
- Gödöllő
Address:

2100, Gödöllő Grassalkovich Kastély

Phone number:

(28) 420-331, (28) 430-864

Opening hours:

Temporarily closed.
One of the most respected noblemen of the 18th century, Count Antal Grassalkovich I (1694-1771) started the construction works of the Gödöllő Palace in 1735. The first contstruction phase lasted until 1749. This was the time when the first U-shaped wing embracing the inner courtyard was completed based on András Mayerhoffer's plans, including the ornamental hall and the noble suites.

Permanent exhibitions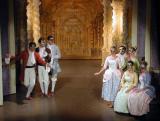 The southern wing apartment of the Palace, which Antal Grassalkovich I rendered at the disposal of his friend, Count Kristóf Migazzi, Bishop of Vác and Cardinal Archbishop of Vienna, was converted into a theatre by Prince Antal Grassalkovich II between 1782 and 1785. The Palace theatre was opened earlier than the Castle Theatre that the Buda Carmelite church was converted into at the instigation of Farkas Kempelen in 1787.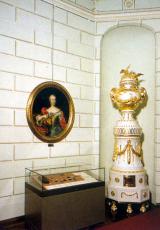 Grassalkovich who came from a lower noble family and had an education in law, - as a result of his talent - completed a career rising high. He had an important in rising the Queen to the throne, since during the Austrian War of Succession (1740-48) it was Grassalkovich who organised the support of the Hungarian nobility. As a reward for the successful increase of the wealth of the chamber, Antal Grassalkovich the 1st was risen to the rank of a count by Maria Theresa in 1743, and also appointed as a secret councellor.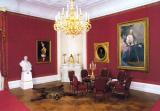 In the beginning, the suite of the Queen was characterized by her favoruite colour, violet. During the 1879 renewal, the colour of the silk wallpapers and upholstery was changed for red. The presence of the favourite colour is of special importancein this room since the furnishings here are meant to be suggestive of the Queen's complex personality.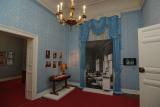 We recall days Charles IV and the Horthy Family spent in Gödöllő in the Gizella Wing that was reconstructed, financed by the EU. We show the headquarters for the Hungarian Soviet Republic, as well as the period when the castle functioned as social institution and military base for the Soviet army.
We also show details of the reconstruction process that began in the 1980s, and locations of Hungarian Presidency of the Council of Europe. In addition to beautiful interiors, the visitors will find great interactive elements, too. The corner room is also an exhibition room where a scale model, like a time machine, shows its history, and where in the drawers of the showcases there are treasures, photos and items to be touched and felt awaiting the visitors.
A picture gallery about members of the Habsburg family is shown in the hallway of the Gizella Wing. In addition to members of the Habsburg family, there are also portraits of the palatine branch of the family.
The base for the material was the heritage of the Stephanie of the Lónyai Family.

further exhibitions