Bakonybél Country House
- Bakonybél
Address:

8427, Bakonybél Fő u. 15.

Phone number:

(30) 468-8938

Opening hours:

01.04-30.09.: Mon-Sat 9-18, Sun 9-16

01.10-31.10.: Mon-Sun 9-16
Museum tickets, service costs:
| | | |
| --- | --- | --- |
| Ticket for adults | 350 HUF | |
| Ticket for students | 250 HUF | |
| Ticket for pensioners | 250 HUF | |
Bakonybél surrounded by forest was repopulated after the Turkish reign. Because the environment was not apt to produce crop, the trade was focused on making wood equipment.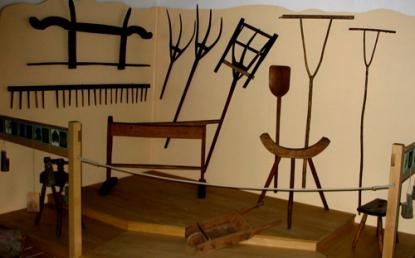 By the middle of the 19th century, there was not one family that did not complement its income of farming with domestic industry. Due to this fact, the village of Bakonybél became a 'carving village'.
The hundred thousands of wood tools and equipments were mainly sold while traveling around the villages. Until the end of the 19th century, people from Serbia, Croatia, Bulgaria and Romania also frequently bought products from Bakonybél. The society of wood workers was made up of three layers: the carver artisans, the woodcutter day-laborers and the tradesmen. The Haspray family belonged to the latter.
The main product was the wheelbarrow for both adults and children. Besides, forks and other things were made of the smaller woods. The three-pointed forks were very popular for hay works. In smaller amount, the five-pointed forks were also made. The people of Bakonybél also made rakes.
The shovels used for moving snow and crop, as well as the shovel with long handle used for moving freshly baked bread were also among the popular products in Bakonybél. Helves and handles of axes, hoes and other tools, as well as barrels and similar objects were crafted in the village. The products made for trade were made in large numbers. The carvers however were proficient in other fields too. They made everything they needed in the household and the farms.