Ópusztaszer National Historic Memorial Park
- Ópusztaszer
Address:

6767, Ópusztaszer Szoborkert 68.

Phone number:

(62) 275-133 /103, (62) 275-133 /104

Opening hours:

01.04-30-10.: Tue-Sun 10-18

01.11-30.03.: Tue-Sun 10-16 (Skanzen, external exhibiton closed)

The current fare for those interested informed about the institution's website: www.opusztaszer.hu
The valley of the river Tisza is a real wild water country. Despite of this, or for this, it was populated in the ancient times as well as the period of the original settlement. The colonies were mainly organized around the flood free areas. Still, the people living there had to protect themselves against water which is why they built embankments.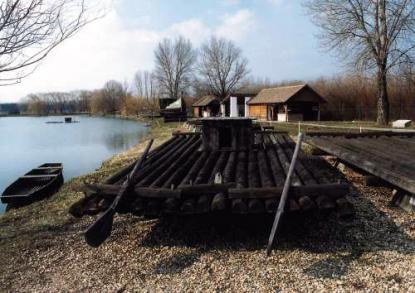 The regulation of rivers in Hungary just like that of the Tisza began in the 19th century. The long work was fastened up by the flood of the Tisza in 1879, which caused immeasurable destruction. The regulation of the Tisza finished in 1905. After the embankments were ready, new tasks came forward: the embankments had to be monitored, which was the task of the guards.
In the memorial park of Ópusztaszer the estate built for the guards was constructed according to the original plans found in the Ferenc Móra Museum of Szeged. The traditional peasant houses and the shed to hold the equipments of the flood control surrounded the houses of the guards built along the embankments.
In the living quarter of the estate, the lifestyle of the guards is shown. The room on the right is the so-called 'clean room' which would be called the office nowadays. On occasion of flood, the architect supervised the works from this room. In the room on the left, the visitors may learn of the water controls around the Tisza. The storage house was created in the attached building where even nowadays the tools and equipments are kept in the original 'alert' position. In the attached building the plotting board of the flood if 1879 is shown whish presents the frightening scene with sound, light, and picture effects.