Fairy Tale House
- Békéscsaba
Address:

5600, Békéscsaba Békési út 17.

Phone number:

(66) 326-370

Opening hours:

Mon-Fri 9-16

At the weekends and in the evening we are open if a program is on

The museum is closed during the holidays.
Museum tickets, service costs:
| | | |
| --- | --- | --- |
| Ticket for adults | 200 HUF | |
| Ticket for students | 100 HUF | |
The Fairy Tale House, the dream of the talented artist, presents a unique world of fairy tales inspired by folk tales.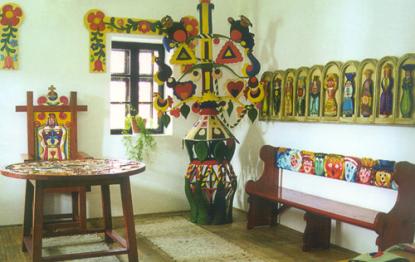 The visitors first see a magic picture in the backyard surrounded by two houses. The small wooden statues lined up on the porch are wonderful proofs of the creative man.
The room looking on the street is the so-called 'Fabulatory', where a round table stands with the chair of the storyteller behind. He invites the visitor with a rope which has flowers on. The 'Life tree', the revoked motif of the Hungarian stories, is in the corner. Next to it, stands the series of István Csukás titled 'Flower Girls'. Over the door, the Valiant John contemplates the visitors.
A heart, a pomegranate and different characters of fairy tales color the world of toys. They help the soaring of the potato-pressing hussar, the free playful soul. They talk about a golden age of the past. The richness of the genders is miraculous: honey cake- and ceramic figures, statues of playgrounds, wood- and metal statues.
The museum shows the cross section of the art of Schéner from the fairy tale characters to the constructivist inspired by Bauhaus forms related to the statues, the animal and beat figures broken down to pieces, presenting the variability of the art from the multitude of the material to the unique forms.
Quoting the words of the master: 'In our infinitely chaotic, decomposing world the biggest danger threatens the innocent, pure child. I would like to take them on my small boat to a safe place and keep them there until the flood is gone. I would like to keep their innocence and playfulness because playfulness is the sky-high tree of the soul. If we mould it right it can reach God, and as frisk children we may also jump over to Heaven.'