Ópusztaszer National Historic Memorial Park
- Ópusztaszer
Address:

6767, Ópusztaszer Szoborkert 68.

Phone number:

(62) 275-133 /103, (62) 275-133 /104

Opening hours:

01.04-30-10.: Tue-Sun 10-18

01.11-30.03.: Tue-Sun 10-16 (Skanzen, external exhibiton closed)

The current fare for those interested informed about the institution's website: www.opusztaszer.hu
The small shops and the bakeries were necessary part of the people of the villages and county towns. They were also important part of the sight of the settlements. The building in the collection originally was a peasant house of Tápé. In the 1910's a Jewish family bought it and converted the room facing the street into a grocery.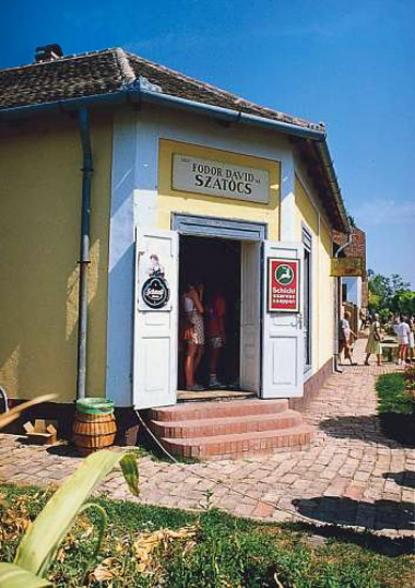 In 1939, the new owner complemented the shop with a bakery. Two helpers worked in the workshop, and the wife of the owner was the salesperson in the grocery. Next to the wall of the shop shelves stood and tools lined up. The grocers, flour, sugar and other food were kept in the drawers. The grocer also sold equipments of agriculture such as spades, hoes, and rakes besides paint, brushes, and soaps. In the barrels in the backroom, there was oil, petrol, etc. In consequence of these articles, the shop had a unique unmistakable smell.
Every grocer had his/her circle of costumers. For the sake of the costumers, the grocers had a large number of products on stock and they gave credit to them.
The bakery workshop was in the backyard along with the furnace. The dough was molded by hand in the five-meter long tub. Baskets lined up to keep the mold in.
The house between the bakery and the shop is a reminder of the culture of the tradesmen of the 1940's at the area of the Great Planes.