Ópusztaszer National Historic Memorial Park
- Ópusztaszer
Address:

6767, Ópusztaszer Szoborkert 68.

Phone number:

(62) 275-133 /103, (62) 275-133 /104

Opening hours:

01.04-30-10.: Tue-Sun 10-18

01.11-30.03.: Tue-Sun 10-16 (Skanzen, external exhibiton closed)

The current fare for those interested informed about the institution's website: www.opusztaszer.hu
Csongrád is a small town along the Tisza. Its name has a Slavic origin which means 'black castle'. After the original settlement the son of chief Ond, Ete settled in the earth castle and occupied the surrounding area.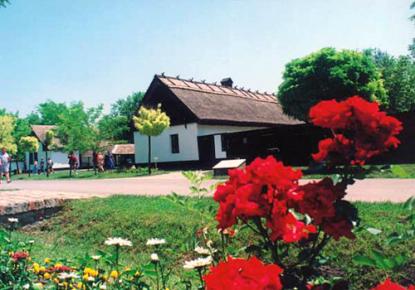 Until the last decades, fishing was very important in the life of the town. The anglers lived in an area called 'inner town'. The sailors of the Tisza, ship builders, and the construction laborers who owned no land or only a small vineyard also lived there.
In the 1960's 17 houses of the area were declared protected by the National Conservancy of Monuments. The house in the shkanzen is built in the following pattern: room-kitchen-chamber. The arched porch and the plane chimney were reconstructed according to archive photos and the memories of people.
The room presents the furniture of the 1910-20's years. The chamber was the storage of chest for flour, tub of lard, barrels, and other tools of baking. The equipments of the anglers were also kept in the chambers at wintertime. Only pigs and hen used the sty.
In the 19th century in many of the houses in downtown, there was no well so the tenants took water from the river Tisza. The old anglers accustomed to drinking the water of the river until the middle of the 20th century. The water was storied in barrels and jugs until the sediment sank to the bottom. Then the water was ready to drink. Some used filter made of lime.
The fisher house gives an example of the peasant culture of the county towns, but of a poorer sort.