Museum of Textil And Clothing Industry (Textilmuseum)
- Budapest
Address:

1036, Budapest Lajos u. 138.

Phone number:

(1) 250-1020

Opening hours:

Tue-Sun 10-18
Museum tickets, service costs:
Ticket for adults

450 HUF

Ticket for students

400 HUF

Ticket for pensioners

400 HUF

Guide

2000 HUF

Group guide

(over 6 people)

1000 HUF
The exhibition presents the last pieces of textile manufactures. Tutyi was made on production lines in Tamási in the Rittinger Workshop until 1991. Tutyi are the shoes, closed slippers worn by German ethnic groups.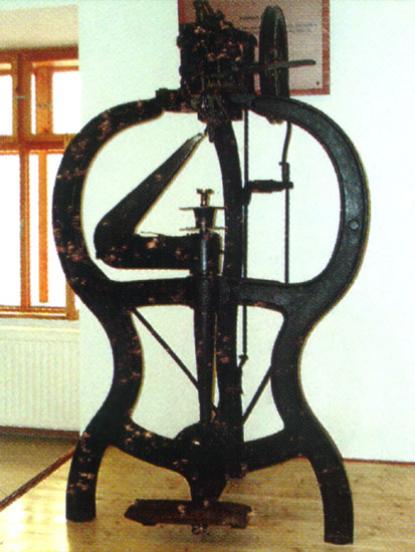 The display presents the objects in the order of their manufacturing. 13 machines worked in the original workshop, however, we only show the most interesting ones.
The raw material of tutyi, wool, was washed and separated, pre-carded and the so-called line came off the endcontainers.
Weaving was performed on the Jennies. When preparing the material, 60 spindles were created. The wooden Jenny was probably one of the last ones made around the turn of the century.
The tutyi was laced into a certain form. Than it was twice the size of the end piece.
When burring was performed, than the fuller was moved. The bottom part of the machine is a basin for water. The half-done tutyi was placed there. When the machine was moved, the wood shrank. A closed and thick textile was born.
The sole making machine was made of cast iron in secession style. With it, leather or artifical leather was sown on the sole. The tutyi were sold at fairs.
A selection of different tutyies accompanies the exhibition, a model of fullering, as well as a stocking making wooden machine.