Hungarian National Gallery
- Budapest
Address:

1014, Budapest Szent György tér 2.

Phone number:

(1) 201-9082

Opening hours:

Tue-Sun 10-18
recommended age:
6 - 8 year
Museum pedagogy contact person
Szabad JĂşlia
(1) 439-7461
Equipment in the institute
Professionals:

museologist
Rooms:

lecture room,

workshop (rooms)
Leisure equipment:

accessible restroom,

Braille signs,

buffet,

cloakroom,

gift shop,

medical office nearby,

palpable exhibition,

seat cushions,

wheelchair
Traffic:

accessible building,

museum map
Related exhibitions
1970.01.01. 01:00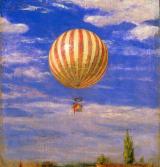 Our exhibition, presenting 19th-century art, surveys the work of almost 100 years, beginning in the late 18th century. Here we can see almost all the important works from the time of National Romanticism that have for generations determined the national visual memory. Including such major emblematic works of historical painting as The Women of Eger, The Mourning of László Hunyadi and The Christening of Vajk, the most significant historical paintings by Viktor Madarász, Mór Than, Sándor Liezen-Mayer, Bertalan Székely, and Gyula Benczúr fill two impressive rooms on the first floor.
In the adjacent rooms the visitor can see landscapes by Károly Markó as well as major works by József Borsos, Miklós Barabás, Mihály Zichy, Gyula Benczúr, and Bertalan Székely. A separate room presents the work of the greatest renewers of 19th-century Hungarian art: Pál Szinyei-Merse, Mihály Munkácsy and László Paál. The one-time ballroom of the palace displays works of Naturalist and early plein-air painting that in many instances paved the way to Modernism. Works by László Mednyánszky, Géza Mészöly, Lajos Deák-Ébner, Simon Hollósy, and István Csók form the backbone of this unit.

further exhibitions