Kiskun Museum
- Kiskunfélegyháza
Address:

6100, Kiskunfélegyháza Dr. Holló Lajos út 9.

Phone number:

(76) 461-468

Opening hours:

Temporarily closed.
recommended age:
6 - 18 year
Ticket prices
| | | |
| --- | --- | --- |
| Program ticket | 500 HUF | / capita |
Museum pedagogy contact person
Mészáros Márta
+36(76)461468
Equipment in the institute
Professionals:

museologist
Rooms:

lecture room
Leisure equipment:

baggage room,

cloakroom,

gift shop,

medical office nearby,

rest stop,

restaurant nearby,

seat cushions
Traffic:

museum map,

parking lot
Related exhibitions
1970.01.01. 01:00
Félegyháza was established in the 14th century. It was a small village then with a small church made of stone. The Turkish burned down the habitat in 1526. In the following 200 years it was a bleak. The exhibition presents the history of the habitat repopulated in 1743 until the middle of 1920.

1970.01.01. 01:00
In the bigger room a literary historical exhibition demonstrates th elife-work of the poet. Ferenc Móra's adherence to his town can be followed by means of a material emphasising the region historical aspect.

1970.01.01. 01:00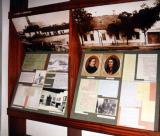 The introductory part of the exhibition demonstrates the relics of Kiskunfélegyháza and the Kiskunság, found in the beginning of the 19th century. The documents of the Petőfi family, the student years of Sándor Petőfi Sándor, the life of the poet and revolutionist are represented through objective relics and pictures.

further exhibitions