Municipal Museum of Art - Miklós Borsos Permanent Exhibition
- Győr
Address:

9021, Győr Apor Vilmos püspök tere 2.

Phone number:

(96) 316-329

Opening hours:

Tue-Sun 10-18

05.07-31.08.2011.: Tue-Sun 14-20
recommended age:
7 - 10 year
Ticket prices
Program ticket

(costs of raw material included)

400 HUF

/ capita
Museum pedagogy contact person
Madarász Zsuzsa
+36(96)322695
Equipment in the institute
Professionals:

museologist
Rooms:

activity room
Leisure equipment:

baggage room,

cloakroom,

gift shop,

palpable exhibition,

rest stop,

restaurant nearby,

seat cushions
Traffic:

museum map
Location: exhibition ward, workshop
Related exhibitions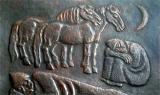 In the covered part of the intimate courtyard we can see the bronze reliefs (1966) of Miklós Borsos. A stone statue entitled Mourning woman, the figure of Janus Pannonius and in the small yard - in an evergreen environment - the artwork called Primavera (1978) are also seen. The items exhibited on the ground and the first floors provide us with a thorough insight to the painting and sculpure works of the master.

further exhibitions