Aurél Bernáth Gallery
- Marcali
Address:

8700, Marcali Kossuth Lajos utca 25.

Phone number:

(85) 510-448

Opening hours:

Mon-Wed 9-13, Thu-Fri 14-18
The Bernáth Aurél Gallery can be visited in Marcali, Somogy county. The Gallery was built near the house of painter Aurél Bernáth. There is a park around the building. That is where the bust of Bernáth made by Pál Pátzay stands. For technical reasons our Gallery is closed between the temporal exhibitions. At such times the Bernáth Memorial Room cannot be visited, either.

Permanent exhibitions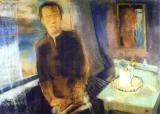 Aurél Bernáth (Marcali, 13th November 1895 - Budapest, 13th March 1982) obtained his first artistic urges through Ödön Rippl Rónai, younger brother of József Rippl-Rónai. As a beginner he received training from István Réti and János Thorma at the Nagybányan Art Compound. He traveled all over Europa: he lived in Vienna (1921-26) and later in Berlin.

further exhibitions