Nursery School Museum
- Martonvásár
Address:

2462, Martonvásár Dózsa Gy. út 13. (Emlékezés tere)

Phone number:

(22) 460-065

Opening hours:

Tue-Fri 10-16, Sat-Sun 11-17
The exhibition on Kindergarten History has been open for over 10 years in the building hiding under the chestnut trees in the yard of the castle of Martonvásár. The leave for operating the museum came in 1990 in Nyíregyháza. The founder and leader was Mrs. Harcsa Tibor. She had been collecting material for the exhibition years before the opening of the museum.

Since the collection was not treated accordingly in Nyíregyháza, Mrs. Harcsa had it moved to Martonvásár, the town Brunszvik Teréz loved so much. There could not have been a better place for it. The cult of Brunszvik Teréz has not ceased to flourish in the past hundred and half years. The inhabitants and institutions tend the memory of the countess with love. It is not by chance that the first exhibition on kindergarten history was opened in Martonvásár in 1962.

The choice of location was also successful since hundreds of thousands yearly visit the castle yearly. The Brunszvik castle hosts the Beethoven Memorial Museum and the most credible Englsih park of the country. Everyone interested in the history of kindergartens likes to visit the exhibition in Martonvásár. Kindergarteners and teachers visit the park yearly in thousands. It is not only nostalgia, but the exhibition also makes the visitors realize how important a place is a kindergarten in the life of a child.

Ever since it's opening, 12-15000 people visited the museum. The display follows the history from kindergartens from the first one opened by Brunszvik Teréz in Buda in 1928 to the 1960's. We also trace the main educational trends via documents and contemporary objects. Like everywhere else, the exhibition is only the peak of the iceberg. The archives and the library with 5000 professional books give information for all interested in the history of kindergartens. The operators of the Museum are the Self-government of Martonvásár and the Hungarian Academy of Sciences.

Permanent exhibitions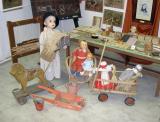 The Brunszvik family was not only known for their relation to Beethoven. Brunszvik Teréz was one of the most educated women of her times. She nursed close relations to Beethoven.

further exhibitions