Nursery School Museum
- Martonvásár
Address:

2462, Martonvásár Dózsa Gy. út 13. (Emlékezés tere)

Phone number:

(22) 460-065

Opening hours:

Tue-Fri 10-16, Sat-Sun 11-17
The exhibition on Kindergarten History has been open for over 10 years in the building hiding under the chestnut trees in the yard of the castle of Martonvásár. The leave for operating the museum came in 1990 in Nyíregyháza. The founder and leader was Mrs. Harcsa Tibor. She had been collecting material for the exhibition years before the opening of the museum.

Permanent exhibitions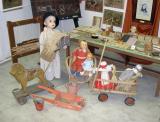 The Brunszvik family was not only known for their relation to Beethoven. Brunszvik Teréz was one of the most educated women of her times. She nursed close relations to Beethoven.

further exhibitions