The Exhibition Ward of the Csabai Homestead and the History of Grain
- Békéscsaba
Address:

5600, Békéscsaba Gyulai út 65.

Phone number:

(66) 441-026

Opening hours:

01.04-31.10.: Tue-Sat 9-17
Permanent exhibitions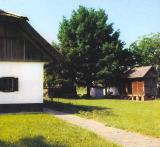 The typical peasant homestead divided into three parts was built in 1824. A barn and a shed was added to it after the great flood of Békéscsaba in 1888. The tools of a family that was involved in crop raising is shown at this exhibition.

The windmill was built from 1855 to 1860 by a peasant man named Dobsa. It was built of large bricks burned in the region using wood from Maros and Száraz-ér. Two pairs of millstones were brought from Sárospatak to Csókáspuszta.

Crop raising was dispersed by people of the Körös culture in this region around 8000 ago. Scythian, Celt, Sarmata, German and Avar tribes were involved in crop raising beside animal husbandry. Their crop tanks and grinding tools have been found by archeologists.