The Arts on Eggs Museum
- Zengővárkony
Address:

7720, Zengővárkony Kossuth Lajos utca 6.

Phone number:

(72) 466-605

Opening hours:

01.11-14.03.: Mon, Tue, Thu-Sun 10-15

15.03-31.10.: Mon, Tue, Thu-Sun 10-18

Also at other times on prior notice.

+ 36 72 466-605
The works of the Hungarian egg painters are exhibited in regional units. Some Israeli, Chinese and Indonesian pieces are seen, too. Pieces of popular and applied arts are displayed in the glass-cases as well. Postcards and replicas can be purchased of the nicest pieces in the exhibition. The museum offers a whole set of paints, other tools and counsels necessary for egg painting at home.

Permanent exhibitions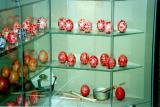 The displayed eggs originate from 19 countries and 55 regions. They were made by 160 known and more unknown egg ornamenters, by more than 30 kinds of techniques (horse tail covered, wired, strow covered, painted, scretched, batiqued, etc.) A number of applied art works are also displayed in the museum. These are compositions made of wood, mineral, stone or glass, formulate dinto egg shapes.

further exhibitions