Town Museum of Gödöllő
- Gödöllő
Address:

2100, Gödöllő Szabadság tér 5.

Phone number:

(28) 422-002, (28) 422-003

Opening hours:

Temporarily closed.
Permanent offer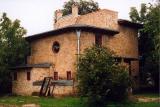 The secession tour touches the original scenes of the Gödöllő artist compound, such asi: Nagy Sándor-house, Belmonte Leo house, Körösfői-Kriesch Aladár house (signed by a memorial plaque), the building of the weaving school, Remsey Jenő house and the contemprary artist house.

Museum pedagogy contact person
Ivókné Szajkó Ottília
+36(28)419068
Equipment in the institute
Professionals:

museologist
Rooms:

activity room,

lecture room
Leisure equipment:

cloakroom,

gift shop,

medical office nearby,

rest stop,

restaurant nearby,

seat cushions
Traffic:

museum map