Dániel Berzsenyi Memorial Museum
- Egyházashetye
Address:

9554, Egyházashetye Berzsenyi u. 56/A

Phone number:

(95) 472-004

Opening hours:

Temporarily closed.
Egyházashetye is the oldest and most well-known literary memorial place in Vas county. The house of the poet, that was built at about 1750, was already awarded a centenary memorial plaque by 'the audience of the comitat' in 1876. Since then, Egyházashetye has been the centre of Berzsenyi's worship in Vas county.

Even in the Middle Ages the significant settlement has been mentioned in the sources as Egyházashetye since 1470 as it always used to be a clerical place. Its geographical situation is also fortunate. The attractiveness of the native village of Dániel Berzsenyi can be further increased by the neighbouring Borgáta, the hot springs of Mesteri, the gentle slopes, noble wines of the Kissomlyó Mountain, Celldömölk lying 15 kilometres far from Egyházashetye and finally by the Ság Mountain.

The Berzsenyi Memorial Museum, that has been set up in the native house of the poet by the colleagues of the Petőfi Literary Museum, makes the visitors acquainted with the life and life-work of Berzsenyi and gives a picture of the 18th century gentry-lifestyle through its accessories: contemporary furnishings and household equipments.

Permanent exhibitions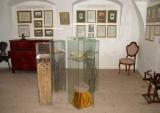 Our exhibition in the native house of Dániel Berzsenyi recalls the famous poet's childhood, youth and adolescent marriage years spent in Sömjén. This means the source of his poetry, that is, the historical atmosphere of the region including the beauty of the unforgettable scenery.

further exhibitions