Dániel Berzsenyi Memorial Museum
- Egyházashetye
Address:

9554, Egyházashetye Berzsenyi u. 56/A

Phone number:

(95) 472-004

Opening hours:

On prior notice
Egyházashetye is the oldest and most well-known literary memorial place in Vas county. The house of the poet, that was built at about 1750, was already awarded a centenary memorial plaque by 'the audience of the comitat' in 1876. Since then, Egyházashetye has been the centre of Berzsenyi's worship in Vas county.

Permanent exhibitions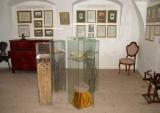 Our exhibition in the native house of Dániel Berzsenyi recalls the famous poet's childhood, youth and adolescent marriage years spent in Sömjén. This means the source of his poetry, that is, the historical atmosphere of the region including the beauty of the unforgettable scenery.

further exhibitions