Szombathely Gallery
- Szombathely
Address:

9700, Szombathely Rákóczi F. utca 12.

Phone number:

(94) 508-800

Opening hours:

Temporarily closed.
Permanent exhibitions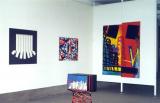 The main point of view of the collecting in the last years was to manage the works from the 1960-70s years and the young artists' ones of the 90s years. There were organized exibitions before collecting showing the young artists' works and the Hungarian neo-avantgarde and conceptualism.

The new exhibition considers the collection itself, its creation, and the reason of its creation in different political situations. The other layer of our research is the permanent exhibition held formerly. We are in search of the coincidence and slips between the time of collecting and displaying the material.