Savaria Museum (Vas County Museums Authority)
- Szombathely
Address:

9700, Szombathely Kisfaludy Sándor utca 9.

Phone number:

(94) 500-720, (94) 501-948

Opening hours:

Tue-Sun 10-18
Vilmos Lipp, teacher from Premontre, initiated the Archeological Association of Vas County in 1872. The aim was to collect the historic relics found in the County. The basis of the collection was the findings of the Roman period and objects donated by private collectors.

The Archeological Association melted in the larger Culture Association of Vas County in 1900. At that time, the collection was located in the Palace of the Bishop in a small ward, which was too small and it was necessary to build a larger museum. It was ready in 1908 and was named Cultural Palace. It was attached another wing in 1920. In 1939, the 'Lapidárium' was also furnished following the plans of István Járdányi Paulovics.

At the time of the war, the building was damaged but the collection was saved from the bigger damage.

Until its nationalization, it was the last museum organized by an association. Almost half a million objects are preserved in its ethnographic, archeological, and historic collections.

The building of the Museum is in downtown Szombathely, its entrance faces the park of the institution. The bronze statue of Boldizsár Horváth and that of the ex-manager of the Museum, Ágoston Pável are erected in the park

In the ward upstairs, the permanent exhibition titled Regions-Periods-Settlements can be seen. It is a result of the work of nature performed for millions of years and the work of humans, who have only occupied the region for a few thousand years. We present the history of the region, earth, and pictures of nature from the Bottom of the Alps region. The history of the village of S├ę, the town of Velem-Szentvid, and Savaria show that these settlements were able to create a relationship between man and nature under different circumstances. All models in the three wards help the visitors to compare the history of the settlements

The most important memories of the Roman stone collection in the basement of the building. (lapidarium) Thee are the torsos, the Triad of the Capitol, the altars, and ancient Christian and pagan tombstones.

Temporary exhibitions and concerts are frequently held in the auditorium.
Permanent exhibitions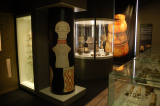 A completely revamped permanent exhibition welcomes visitors at the site that was originally opened in 1982 and was demolished last year.

further exhibitions