Region Historical Collection Mórágy
- Mórágy
Address:

7165, Mórágy Szabadság utca 83.

Phone number:

(74) 491-934

Opening hours:

Booking via phone

Closed: Sunday
The first settlers from Rheinpfalz and Hessen arrived in Mórágy in the 1720s. During their saty in the village, they established agriculture. Agricultural work, mining, as well as arts and crafts were the main occupations locals were involved in up to the 1900s. However, the villagers moved on to Slavonia, Bosnia and other developing European countries as soon as the sources in the region were exploited.

Permanent exhibitions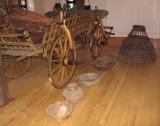 The visitors will see agricultural equipment, as well as the processing of corn, alfalfa and other raw material in the downstairs exhibition rooms. The showing in the chamber also mirrors the importance agriculture played in the life of the locals. In addition, finds from excavations and a number of ceramics found in Mórágy are on display in these rooms.

further exhibitions