Mihály Babits Memorial House
- Szekszárd
Address:

7100, Szekszárd Babits Mihály utca 13.

Phone number:

(74) 312-154

Opening hours:

Temporarily closed.
Mihály Babits, poet (1883-1941) was born in this house (called the Kelemen-house at Szekszárd). The house, built in Copf-style around 1780. was bought by his grandfather, J. Kelemen when he settled at Szekszárd in 1852. The first exhibition opened here in 1967, and on the occasion of the l00th anniversary of the poet's birth in 1983, the whole house became a museum.

Permanent exhibitions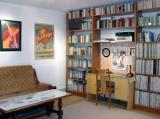 The world of the poet is conjured up by his library, desk and personal articles. The poet Baka István was one of the most important reformers of role-play poetry. He was also a writer and translator. He was born in Szekszárd on 25 July 1948.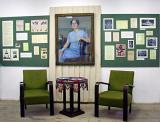 Valéria Dienes (born as Valéria Geiger) was born on 25, May, 1879. in Szekszárd. Her mother, Erzsébet Benczelits was a teacher; her father, Gyula Geiger was a liberal man, lawyer, and publisher. The Benczelits family were related to the family of Mihály Babits. As a child, Valéria often met the older Babits in the house along the creak Séd.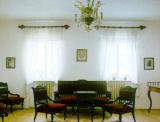 The third room was the poet's in his childhood, and also later, when he returned home. Near to the window is a chest of drawers with a modifiable top. This was the writing table of the young poet, and served as a hiding place as well for his early writings. Next to this is an old armchair - the "thinking chair" - in which the young writer-poet liked to sit, There is a small adjoining room to the poet's.

further exhibitions