Museum of Local History
- Csenger
Address:

4765, Csenger Hősök tere 3.

Phone number:

(44) 715-209, (20) 560-5027

Opening hours:

Mon-Sat 9-12, 13-17

Sun 10-12, 14-17
Csenger played an important role in the history of Szatmár County for centuries. In the 15-16th century it was the center of the county, the meetings and the 'days of law' were always held there. In 1388, the town had the right to hold fairs. At the beginning of the 1400's it was referred to as a county town. The Museum of Local History is the representation of the historic consciousness of its population.

At the same time, we can say that nobody was involved in collecting the objects of the past. The documents however were saved, processed, and partly published as the result of the work of József Molnár (1905-1989).

The collecting work of the local Grammar School produced a small material to display. Unfortunately, most of it was lost because of irresponsibility. The material of the exhibition which opened later was based on that and material collected by students of Primary Schools.

In 1974, the material was shown in three rooms of the Primary School, which had been the house of a noble family. The exhibition was more and more popular among the audience.

The collection was growing slowly. It soon grew out the location provided. In 1982, a civic house was reconstructed to provide an apt location for the Museum of Local History.

It was inaugurated on 14 July 1984.

The Self-Government of the Town of Csenger maintains the institution. The location of material collecting is Csenger and its surrounding area officially. The material of archeology was collected from the 80's which grew into an important collection in the County.

Beside our four permanent exhibitions, we own a significant photo collection as the result of our 30-year work. The documents of the town are also provided in great number for the researchers who can take up an abode in the museum.

At summertime, we hold professional day camps located in an area perfect for camping. The fireplace is a favored place for the students of Secondary Schools and other groups. It is an organic part of the spiritual and cultural life of the town.

Permanent exhibitions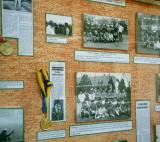 The permanent exhibition is located in the Sports Hall of the Town. The sports life of our town is shown in six showcases. Our main interest was on the history of football. We show that of Csenger from the 1920's by the help of photos and objects.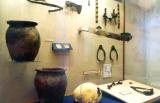 This ward presents the history of Csenger and its surrounding area by archeological findings, photos, and other documents of history from the Neolithic period up to the 1950's. The large placards on the walls give additional information.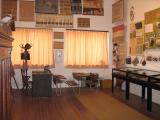 Every now and again a significant school could designate the value of a certain area. Though the school of Csenger had not a nation-wide reputation it can be still said that it was the characteristic institution of the area.

further exhibitions