Open Air Museum of Sóstó
- Nyíregyháza - Sóstó
Address:

4431, Nyíregyháza - Sóstó Tölgyes utca 1.

Phone number:

(42) 479-704, (42) 500-552

Opening hours:

Temporarily closed.
The Museum Village of Sóstó is the biggest regional open-air ethnographic museum in Hungary. Ever since it was established (1970) and opened (1979), it received the title 'The Museum of the Year' and became the most often visited museum of Szabolcs-Szatmár-Bereg County. Yearly 70-80 thousands visit it even though it is only open from April until October.

Its popularity is due to the fact that the objects of interest, vernacular architecture and culture are presented in a unity called the 'museum village'.

On the 7,5 hectares, five ethnographic units: Szatmár, Rétköz, Nyírség, Nyíri Mezőség and Bereg, their tenants and farm buildings, as well as curiosities are shown eg. the 'Tirpák' yard, headstones from cemeteries or gypsy shacks from the suburbs of settlements.

Spinner shaped community buildings can be found in the center of the villages along with workshops, a school, shed of firefighters, and an original inn is open in the opening hours of the museum. The parish and the barn are the ideal places of varied programs.

We also hold 2-3 temporary exhibitions in the smallholder's house in Járm. Besides the interesting thematic of the displays, the visitors may also enjoy objects rarely shown.

The visitors also favor our programs. Besides the whole day programs we also provide for festivals, showings and fairs of smaller trades. Those interested in gastronomy may find the programs on Wednesdays exciting since we organize the 'Taste It' events on every Wednesday where the visitors may taste the cooking of Hungarian cuisine while folk music is played in the hot summer nights.

Páll István
Permanent exhibitions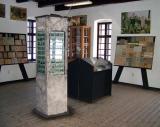 The museum presents the history of the school relocated from Barabás. In the building with shingle roof and verandah built at the end of the 19th century, original interior shows state of the school between WWI and WWII. In a classroom, pageants and showcases show documents and objects from the end of the 19th century to the 1960's seriously influenced by the educational policy of the time.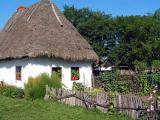 Around 100 objects form an authentic settlement concerning the buildings and structure. The living quarters and the barns built in the yards are accompanied with several other smaller structures. Just like in real villages, the cemetery is also present along with the gypsy buildings at the end of the village.

further exhibitions