Hungarian National Museum King Mathias Museum
- Visegrád
Address:

2025, Visegrád Fő utca 23.

Phone number:

(26) 597-010

Opening hours:

Tue-Sun 9-17
The excavation works at the most well-known historic building of Visegrád began in the 1870's. The finds were moved to the National Museum. In 1927, the Castle Committee was established to save the ruins of the castle.

Permanent exhibitions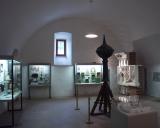 The new palace was located on 123 x 123 m. The gate tower stood in the middle of the facade facing the street. On one side the kitchen, on the other side stores and wards attached to the tower. The first yard of the palace was a large inn yard. Flower gardens of the king and the queen belonged to the building.

further exhibitions