Sándor Petőfi Memorial Museum
- Dömsöd
Address:

2344, Dömsöd Petőfi utca 17.

Phone number:

(20) 971-5281

Opening hours:

Tue, Fri, Sat 10-16

We also open for groups at not regular opening times
The building of the museum was built in 1823, the year of the birth of Petőfi. It was built by István Szűcs, which is perceivable on a sign in the hallway down to the cellar. The building functioned as a living quarter until 1960. In this very year the teacher Lajos Szabó tried everything to have the building renovated. This enterprise was successful and since that time this little building serves as our museum.

Permanent exhibitions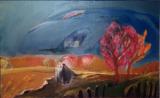 This permanent exhibition opened on 22, December 2001 in the old storehouse of Mrs. Kukucska. She collected herbs and kept her large collation in Dömsöd.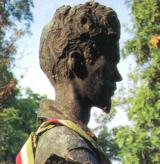 The poet visited our village, Dunavecsere, several times. In some cases he just stopped on his way to visit his parents in Szalkszentmárton. He rested every now and again on the Danube bank; this is why he chose to stay in Dömsöd. This is exactly what happened in August of 1845 when he wrote his poem 'The Leaves are Getting Red on the Trees' standing under an oak.

further exhibitions