Hungarian Museum of Trade and Tourism
- Budapest
Address:

1036, Budapest Korona tér 1.

Phone number:

(1) 212-1245

Opening hours:

Tue-Sun 10-18
Permanent exhibitions

The exhibition presents glazed objects from the museum trade collection, as well as boards about smoking, drinks, insurance and various signs. New acquisitions were added to the collection that is now showed as a permanent exhibition.

The exhibition invites the visitors to two rooms where Krúdy spent the last three years of his life and where he died in Óbuda. One of the rooms is furnished as cheap hotels used to be, and where Krúdy spent his days from 1896 to 1933.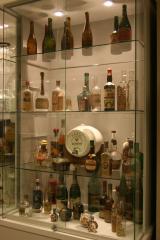 The Study Collection reopens on 19 October this time presenting objects related to trade, hotel and catering. We wish to draw the attention to the past of these industries.

further exhibitions