Geographic Museum of the Tuszazug
- Tiszaföldvár
Address:

5430, Tiszaföldvár Kossuth u. 101.

Phone number:

(56) 470-135, (56) 570-525

Opening hours:

Tue-Sat 9-12, 13-17

On prior notice: beyond the opening hours as well!
The Geography Museum of Tiszazug was established by Dr. Varga Lajos (1913-2003) in teh stormy years of 1956. At the beginnings the institution performed geographic excavations of Tiszaföldvár and surroundings.

Even though the surroundings of the museum is Tiszazug, the museum still bought geographic objects from all over the country. Thus, the museum amassed a collection unique in the country.

Nowadays, the collecting work involves Tiszazug and 200 km2 surrounding it, Middle Tisza region.

The institution holds the biggest collection of prehistoric ice age vertebrates. A tub ship made from one trunk from the 18th century found in the River Tisza is the most valuable piece of the agriculture of the flood area.

The Reformation Church reclaimed the building of the Geography Museum of Tiszazug after the change of regime. The Ministry Office returned the building on 28 February 2006.

The Self-government of Tiszaföldvár designated a building for the institution that is partly reconstructed now.

Due to the deconstruction of the permanent exhibition and moving the institution is closed from 1 November 2005. The Museum is expected to reopen on September 2006.

Túri Zoltán
Permanent exhibitions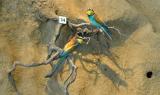 The Geographical Museum of Tiszazug, founded in 1956, waits its visitors with a new spectacular permanent exhibition on 100 sq m in the renewed building, which renovation was supported by the Ministry of Education and Culture, the county government and the county directorate of museums.

further exhibitions