Andor Semsey Museum
- Balmazújváros
Address:

4060, Balmazújváros Debreceni utca 1.

Phone number:

(52) 580-640

Opening hours:

Tue-Sun 10-16
The building that gave home to the region history exhibition was built in 1889, by Andor Semsey -great supporter of Hungarian science and culture. It was built to be used as a Roman Catholic school. This school was functioning right up to the beginning of the 1970'ies.

Permanent exhibitions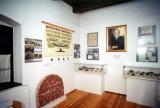 The single units of the permanent exhibition give us an insight into the past history of the settlement and its environment. The etnography of the region is also demonstrated. Tools and photographs introduce us into the world of various crafts (hatter, hammer-smith, cartwright and belt-maker, etc.).

further exhibitions