Permanent Exhibition of the Painter József Horváth
- Sopron
Address:

9400, Sopron Hátsókapu utca 2.

Phone number:

(99) 312-326

Opening hours:

Thu-Sun 10-13, Sat 15-18

On prior notice (99/313-540)
"His art is highly regarded; his life is a paragon of virtue. If I wanted to characterise his art, I would recall those of his works in which his creative imagination believed itself beautiful and invulnerable. If I wanted to catch sight of his moral conduct, I would have to invoke his words and deeds." In this introduction, the student - Ferenc (Sebesta) Sebestény (1907-1972), a painter born in Sopron who worked in Budapest, was one of József Horváth's most distinguished students - recalls his late teacher and friend, reverently trying to evoke his spirit.

Permanent exhibitions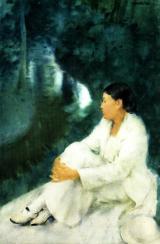 His painting was the imagination's and the brush's constant, persistent search for beauty. There are painters for whom Imagery is an intellectual struggle, and there are those for whom painting is a continuous conversation, the natural language of expression. Horvath was among the latter. This perhaps is one of the explanations for why his art has found its way into so many hearts.

further exhibitions