Intercisa Museum
- Dunaújváros
Address:

2400, Dunaújváros Városháza tér 4.

Phone number:

(25) 411-315

Opening hours:

Tue-Sat 10-16

On the first Sunday in each month is open: 14-18
The Intercisa Museum collects the archeological, historical and ethnographical materials. These items are shown both on permanent and temporal exhibitions.

In the region of the Dunai Vasmű and the town built arond it there had been a Roman settlement and cemetary. Items discovered here during the 19th century and the first part of the 20th century enriched the collections of the Hungarian National Museum and the King St Stephen Museum of Székesfehérvár. The great number of excavated materials made it necessary to establish a local museum in the town. The institute had been working in bitter circumstance since 1951, but was moved to its present home, the party house, in 1970. The building, designed by Tibor Weiner (1906-1965), was one of the most significant buildings of the time.

The institution has been bearing the name Intercisa since 1975. Intercisa was the ancient name of the settlement. The area is the best excaveted station of the Roman borderland.
Permanent exhibitions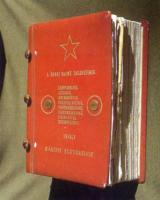 The exhibition demonstrates the history of the building and development of the town up to the beginning of the 1970'ies. An exciting documen is the so-called Red book in which the citizens of our town solicited for the name Stalin to become the name of the town.

further exhibitions