Hungarian Meat Research Institute - Museum of Meat Industry
- Budapest
Address:

1097, Budapest OHKI Gubacsi út 6/b

Phone number:

(1) 215-7350

Opening hours:

Temporarily closed.
According to these directives the management of the Animal and Meat Trade Trust in 1969 entrusted the National Meat Industry Research Institute with the collection work and exhibition of the relics of the national meat industry. The numerous items collected were displayed in the laundry of the former Meat Trade Company of Budapest.

Permanent exhibitions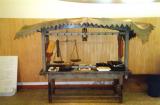 The exhibition - of nearly one hundred and fifty square meters and two halls - represents the history of meat industry right from the times of the Hungarian conquest. Entering the museum the visitor will face a map of Europe, which indicates the directions and extension of the medieval runt-export. The tableaus will help them learn about the animals kept for slaughtering.

further exhibitions