Ferenc Kazinczy Museum
- Sátoraljaújhely
Address:

3980, Sátoraljaújhely Dózsa György u. 11.

Phone number:

(47) 322-351

Opening hours:

Tue-Sun 9-17
The monument building of the museum stands near the town center, under house number 11 Dózsa György Rd. On its classicist front wall, above the wrought iron gate, there reads the year of its building: 1827. During the reform era the Zemplén Casino Society operated here, which gathered the progressive intellectuals of the county and the town. The building served as the local council between 1894 and 1950. The museum moved to its present place in 1990.

Permanent exhibitions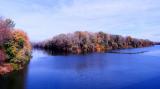 What do you take home with you when you come home from a nice trip? The tranquillity of huge trees, the exciting experience of climbing, the stunning views, the time spent together, the smell of fresh forest air? And over these? What did you record?

further exhibitions