Address:

3600, Ózd Gyár út 10.

Phone number:

(48) 470-115

Opening hours:

Mon-Fri 9-15
In 1971 a Factory History Museum was founded in Ózd in order protect and exhibit the historical relics and the life circumstances of the workers during the famous iron production done here. Since 1994 the history of the settlement has also appeared in the exhibitions.

Permanent exhibitions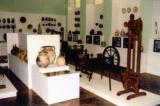 The visitors can look at the relics of the 19th century cottier handcrafts, the pottery works of Gömör and the whole range of instruments used for hemp processing.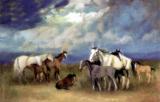 The artworks (the special horsemen pictures) of the prominent painter-graphic artist István Faggyas provide a unique experience to those interested in fine arts.

The pedagogy historical collection gives a taste of the history of the schools around Ózd.

further exhibitions