The Mining Museum of Mecsek - Exhibition on the History of Mining and Library
- Pécs
Address:

7621, Pécs Káptalan u. 3.

Phone number:

(30) 934-6127

Opening hours:

On prior notice

Tel: +36 (30) 218-5659
The First Danube Steamship Navigation Company (FDSNC) exploited, traded and used the coal of Mecsek, which is good for coking for 100 years since 1850. The FDSNC preserved the characteristic devices and documents of mine-digging since the last quarter of 19th century. Using its repository was a regular exhibitor of the local (1888), millenary (1896) and Parisian (1900) exhibitions. After 1945 companies (Coal Mines of Mecsek, Mecsek Ore-mining Company, Shaft-sinker Company) working in the mine industry in Mecsek took care of the conservation of the remembrances of the past.

Permanent exhibitions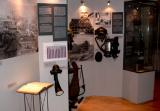 In Mecsek and Pécs the hard coal mining started at the turn of the 18th and 19th century. Documents mentioning the occurance of coal are known since 1701. In 1769 was delivered the first report about the coal of Pécs to the Chamber of Court after the warning of Queen Mária Terézia. In 1782 began the industrial coal-mining in the coal-filed of Vasas, in the Lámpás Valley.

further exhibitions