Pál Kiss Museum
- Tiszafüred
Address:

5350, Tiszafüred Tariczky sétány 6.

Phone number:

(59) 352-106

Opening hours:

Tue-Sat 9-12, 13-17
The exhibition has closed for visitors.
2008.03.04.
-
2008.03.31.
Museum tickets, service costs:
Ticket for adults

500 HUF

/ capita

Group ticket for adults

(min. 10 people)

150 HUF

/ capita

Ticket for students

250 HUF

/ capita

Ticket for pensioners

250 HUF

/ capita

Ticket for families

(2 adults + max. 3 children)

750 HUF

/ family

Program ticket

300 HUF

/ capita

Season ticket

1000 HUF

Group guide

(max. 40 people)

2000 HUF

/ group

Photography

1000 HUF

Video

1000 HUF
At the beginning of revolution in 1848/49 in Hungary the Act XXII of 1848 on Home Guard was passed on 11 April, 1848. It was introduced to ensure peace and public order and public security in home affairs. According to act on home guard residents in market town with house valued 200 forints or with 100 forints total income per year are ought to be compiled in census if he is between 20 and 50 years old. These citizens are obliged to go into armed service.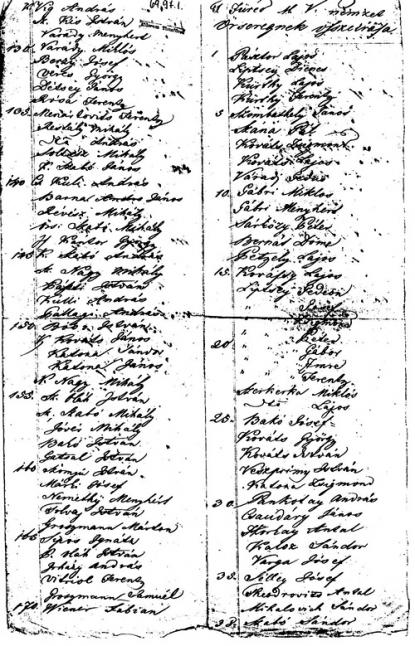 Due to the the long lasted process of the census and different interpretation of act several lists were compiled in each settlement and it was the same situation in Tiszafüred, too. In our museum we have 3 different lists of militiamen. The investigation of these lists shows how the act was read by local administration with regard of property, age and other conditions of citizens in Tiszafüred. On the other hand these lists give deeper insight of local circumstances of a small market town of Hungary in those times.
First list with 202 names was compiled on 29 of May, 1848. Next was written in the middle of August, 1848 and there were 248 persons name in it. The list compiled in May might be the basic of this list, because names with ordinal number 1-201 are almost the same in both. In the second list we can read that between the 2 dates Tolvaj István shot himself or Sipos Benjamin had died. These additional information permitted to identify the correct date of second census, because in the parish register book of death in reformed church of Tiszafüred we could find these dates.
The third list was compiled in alphabetic order. It is put down in a small exercise book and it included 329 names.
According to the 3 lists there were 373 registered persons in the Home Guard of Tiszafüred in 1848. The comparison of these lists shows the census procedure of militiamen and gives an insigth of adminstration system of those times.
Dr. Vadász István