Address:

1146, Budapest Dózsa György út 37.

Phone number:

(1) 460-7000, (1) 363-2671

Opening hours:

Tue-Wed 10-18, Thu 12-20, Fri-Sun 10-18
2021.12.15.
-
2022.02.13.
Museum tickets, service costs:
Ticket for adults

1200 HUF

Ticket for adults

(valid for the Kunsthalle and the Ernst Museum)

1400 HUF

Group ticket for adults

(from over 10 people)

800 HUF

/ capita

Ticket for students

(EU citizens from the age of 6 to 26 )

600 HUF

Ticket for students

(valid for the Kunsthalle and the Ernst Museum, 6-26 years of age)

700 HUF

Group ticket for students

(from over 10 people)

400 HUF

/ capita

Ticket for pensioners

(valid for the Kunsthalle and the Ernst Museum, 62-70 years of age)

700 HUF

Ticket for pensioners

(EU citizens from the age of 62 to 70)

600 HUF

Ticket for families

(1 adults + 2 children)

1800 HUF

/ family

Ticket for families

(2 adults + 2 children)

2400 HUF

/ family
The concept of the network is very much part of today's zeitgeist but the need to be connected, to counteract fragmentation, to keep together and roam over a disintegrating world has always been with us and within us in some hidden way. While teaching physics at the University of Notre Dame, America's famous Catholic institution, network scientist Albert-László Barabási attended art lectures there. He noticed that the visual approach of artists and aesthetic quality in general were beginning to influence his own work and soon the work of other researchers in communication and scientific visualisations (see the BarabásiLab exhibition at the Ludwig Museum in 2020). And conversely, new branches of science and new technologies appear in art, even – or rather, regularly – facilitating the emergence of new genres.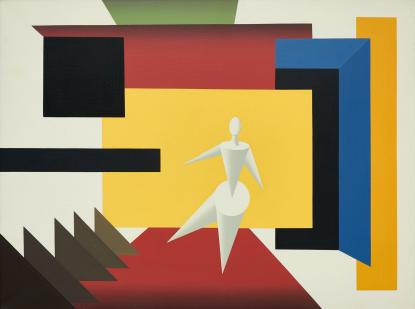 Disciplines have been divided for centuries by the juxtaposition of natural and social sciences. In the 20th century this opposition also led to the 'atomisation' of the visual arts. Perhaps foreseeing this, Goethe, one of the giants of the Enlightenment, was obsessed with analysing the secrets of the creation of great scientific and artistic achievements. He found that creative minds must carry on the 'good' from their masters first but they also need to filter out the 'bad'. On the one hand, they must transcend the genre limitations represented by (specialised) disciplines – and their manifestations in the arts – which engender an increasingly narrowing vision and analytical way of thinking; on the other hand, they should treat the seemingly outdated ideas and methods of their predecessors with an open mind and with an eye for values. Scientists/ artists can and should build upon existing disciplines, techniques and genres technologies by responding sensitively to their traditions. Goethe suggested that achievements which after careful examination prove to be of a quality worth preserving for posterity, should be 'processed'.
On a personal note: with her revelatory exhibition From Cezanne to Malevich / Arcadia to Abstraction, which recently opened at the Museum of Fine Arts, art historian Judit Geskó shows how the new visual approach of the painter legend, rooted in the work of past masters, influenced the classical Avant-garde.
Curiosity coupled with responsibility is at the heart of the vocation not only of the scientist but also of the artist, even when it is – temporarily – considered heresy by the public. It is not uncommon in our times – let's stick to visual culture for now – to condemn or even excommunicate 'dissidents'. Prestigious exhibition venues like the Museum of Fine Arts and the Műcsarnok in Budapest – institutions 'predestined' for an openness to tradition by their history – have the task of both respecting tradition and experimentation, while combining these with new values and thus assuming a mediating role. The spatial structure of the Műcsarnok – its string of exhibition spaces – can do much more than merely position achievements side by side.
The 'permeable walls' allow visitors to embark upon an intellectual adventure through the synergies of painting, sculpture and media art. As suggested by the two end-poles of our current exhibition, i.e. Roland Kazi's kinetic sculpture-robots and the installations of Tibor iski Kocsis, we seek to provide a systemic reinterpretation of the creative processes in space and time. The 'spirit of creation' is intent on exploring the boundaries of space and time. This is why the individual (!), personal exhibition spaces – each presenting the works of one artist selected by one curator – at the Műcsarnok's Fresh exhibition series, for the fifth time now, are opened up simultaneously into a continuous whole.
On previous occasions, without exception, the displayed ensembles of artworks summed up the recent work of the given artists, inspiring communication with the recipient public that, even in this rapidly changing world, opened up unexpected, genre-crossing and/ or interdisciplinary, intermediary intellectual passages. And at times it penetrated walls, inducing heretical or canon-breaking experiences.
We hope to make this miracle happen again here. For we must not resign ourselves to the fact that those who work in the various branches of science and art barely know about each other's work and experiments. I would like to express my sincere thanks to all our exhibiting artists for making this opening-up possible through the Fresh exhibitions – this year to András Bernát, János Dréher, Károly Elekes, András Gál, Tibor iski Kocsis, Roland Kazi, Márta Kucsora, Katalin Mózes, István Regős, and to our curators, who are also featured in this catalogue.
György Szegő DLA