Address:

1065, Budapest Nagymező utca 8.

Opening hours:

Temporarily closed.
The exhibition has closed for visitors.
2020.07.08.
-
2020.08.16.
"Eight weeks. This is how long we followed the activities of contemporary Hungarian photographers in the virtual space during the pandemic. The eight selections published on the Capa Center blog from week to week will appear in the physical space now in the form of a pop-up exhibition, commemorating the events of the past few months.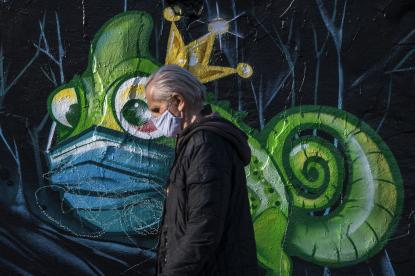 We all went through and reacted to the period of the COVID-19 pandemic in different ways, gaining a wide array of experience. The pandemic and its consequences have considerably impacted the lives of photographers as well. Yet, they continued doing what they do anyway: they took pictures. Of course, not exactly the same pictures and not exactly in the same way as before: some of them stayed at home and created a visual diary of the lockdown, while others would still go out on the streets to record the changed living conditions and cityscape. The radically changed experience of space and time was evident both behind and beyond the windowpane: gloves and masks put on and thrown away; disinfected places and fruits; empty urban spaces and rediscovered corners of the home; festivities and everyday life intertwined.
Life is slowly returning to normal while the reminiscences and consequences of the virus are still with us. The presented photographs provide an opportunity to look back at and reflect on the memorable spring that has possibly altered our relationship with the future as well. The exhibition, which was compiled to present a varied selection of creative attitudes and viewpoints, showcases this period through the images published on the public Instagram profile of thirty-nine photographers." (Judit Gellér and Balázs Gáspár, curators of the exhibition)
Exhibiting artists: Vera A Fehér, Orsi Ajpek, Emese Altnőder, Máté Bartha, László Gábor Belicza, János Bődey, Sándor Csudai, Judit Dombóvári, Andi Gáldi Vinkó, Luca Gőbölyös, András D. Hajdú, Enikő Hodosy, Márton Kállai, Csilla Klenyánszki, Endre Koronczi, Dániel Kovalovszky, Gábor Arion Kudász, Péter Máté, Márton Mónus, Barnabás Neogrády-Kiss, Zsófia Pályi, Péter Puklus, András Ravasz, Bálint Rádóczy, Benedek Regős, Sára Révai, Bianka Rostás, Zsófia Sivák, Ákos Stiller, Bernadett Szabó, Krisztina Szalay, Gergely Szatmári, Katalin Száraz, Lilla Szász, Éva Szombat, Mátyás Szöllősi, Sára Erzsébet Timár, Dorottya Vékony, Boglárka Éva Zellei
Visiting is free of charge
July 08, 2020 – August 16, 2020
Tuesday – Friday: 2pm – 7pm
Weekend: 11am – 7 pm
Closed on Monday and on public holidays.
Capa Center – Project Room
Curators: Gellér Judit, Gáspár Balázs