Savaria Museum (Vas County Museums Authority)
- Szombathely
Address:

9700, Szombathely Kisfaludy Sándor utca 9.

Phone number:

(94) 500-720, (94) 501-948

Opening hours:

Temporarily closed.
Museum tickets, service costs:
Ticket for adults

1600 HUF

Ticket for students

800 HUF

Group ticket for students

(over 15 people)

600 HUF

Ticket for pensioners

800 HUF

Ticket for families

(2 adults + min. 2 children)

2400 HUF

/ family

Guide

5000 HUF

Guide

8000 HUF
A completely revamped permanent exhibition welcomes visitors at the site that was originally opened in 1982 and was demolished last year.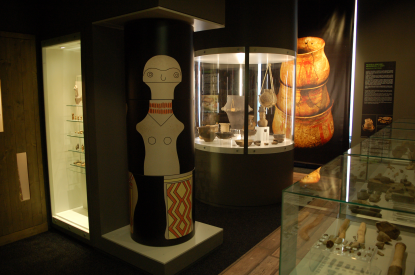 The exhibition that fulfils all the needs of visitors of the 21st century deals with Western Hungary, more precisely Vas county and its history of prehistoric settlement and archaeological monuments showing beautiful archaeological finds. A visitor are invited to follow floor graphics related to various historic ages, from the Neolithic to the beginning of our era modern.
In addition to the museum's rich archaeological collection, a selection of the old exhibits (finds from Sé and artefacts from famous sites in Europe) finds unearthed before the last 15-20 years' grand investments are to be shown: pottery - the prehistoric household requisites, female idols associated with fertility and harvest festivals - stone, antler and bone tools that are illustrated by watercolours.
Of the most beautiful goldsmith products, we can highlight the treasure of which every piece is more than 80 grams and were discovered on Mount St. Vid, as well as a tiara, four discs and gold threads- The collection is shown for the first time together. Central to the exhibition is the viable large scale model of Mount St. Vid which reveals how the location of houses in prehistoric times, and also their surprisingly large size.
The Early Bronze Age loaf-shaped clay objects are also of special interest - as their function still has not been deciphered by the archaeologists. We also show a miniature bronze sword with cups shaped hilt, the only exact replica of which is to be found in Sweden. A separate unit is devoted to prehistoric cult of death, showing the all contemporary forms of burials from the skeletons graves to babies buried in pots, urns or cremation.
The exhibition uses modern, spectacular installations and digital techniques. Visitors may learn of Late Bronze Age house building technologies through a of touch-screen,in 3D.
The organizers are planning to continue the series with the ancient hstory of the town.