Bereg Museum
- Vásárosnamény
Address:

4800, Vásárosnamény Szabadság tér 26.

Phone number:

(45) 470-638, (45) 570-146

Opening hours:

01.04-31.10.: Tue-Fri 8.30-16.30, Sat-Sun 8-16

01.11-31.03.: Tue-Fri 8-16
Museum tickets, service costs:
Ticket

200 HUF

/ capita

Ticket for adults

400 HUF

/ capita

Ticket for students

200 HUF

/ capita

Ticket for pensioners

200 HUF

/ capita

Group guide

(max. 30 people)

2500 HUF

/ group

Photography

400 HUF

/ exhibition

Video

1000 HUF

/ exhibition
The archaeological exhibition divided into two parts is shown in a large ward and one opening from there. The exhibition presents objects from prehistoric times (250000 - 8000 BC) to the 18th century. Among the objects there are ordinary objects, jewellery, weapons, tool, objects used during rituals, objects buried with the deceased etc.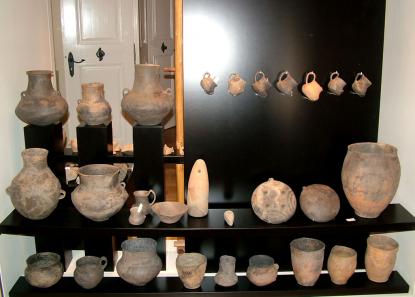 Two sections are of special importance: The Bronze Age and the Age of Emperors (1st century BC - 476) During the Bronze Age a great number of bronze object were dug and his underground in the Bereg and its region. During the Age of Emperors pottery flourished in Beregsurány.
The two most spectacle sections show models of furnaces in which potters of Surány burned their pottery, as well as weapons of German tribes, Vandals, Victovals, who settled at the Upper Tisza Region.
The script of the exhibition was written by the manager of the museum Mrs. Felhos Dr. Csiszár Sarolta and the ethnographer Pintye Gábor.