Bereg Museum
- Vásárosnamény
Address:

4800, Vásárosnamény Szabadság tér 26.

Phone number:

(45) 470-638, (45) 570-146

Opening hours:

01.04-31.10.: Tue-Fri 8.30-16.30, Sat-Sun 8-16

01.11-31.03.: Tue-Fri 8-16
Museum tickets, service costs:
Ticket

200 HUF

/ capita

Ticket for adults

400 HUF

/ capita

Ticket for students

200 HUF

/ capita

Ticket for pensioners

200 HUF

/ capita

Group guide

(max. 30 people)

2500 HUF

/ group

Photography

400 HUF

/ exhibition

Video

1000 HUF

/ exhibition
The showing entitled 'The Treasures of Bereg' features historic and social relations of the town of Vásárosnamény first mentioned in a charter from 1214.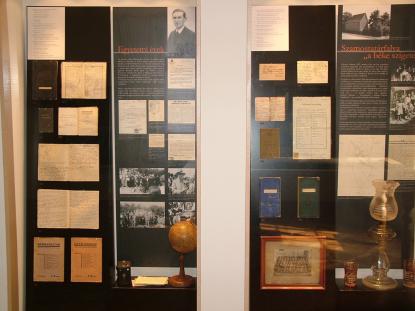 The visitors first enter to a room from a roomy ward that reviews the life and work of the priest Zsiszár Árpád, the legendary man who established the museum. His enthusiasm and love of people helped him in his endeavour to establish the museum. The visitors can learn that Csiszár Árpád was among those who participated in the exhumation and reburial of the poet of the Hungarian anthem, Kölcsey Ferenc.
The script of the exhibition was written by the manager of the museum Mrs. Felhős Dr. Csiszár Sarolta and the ethnographer Pintye Gábor.