Béla Vidovszky Region History Collection (Town Gallery)
- Gyomaendrőd
Address:

5500, Gyomaendrőd Kossuth u. 11.

Phone number:

(66) 282-067, (70) 418-7133

Opening hours:

Temporarily closed.
Museum tickets, service costs:
| | | |
| --- | --- | --- |
| Ticket for adults | 400 HUF | |
| Ticket for students | 200 HUF | |
| Ticket for pensioners | 200 HUF | |
Vidovszky Béla was born in Gyoma on 2 July 1883. His father was the town clerk of the village. After his retirement, the family moved back to Békéscsaba where they were often visited by his father's friend from childhood, Munkácsy Mihály. Maybe these visits influenced the little Béla and directed him towards art.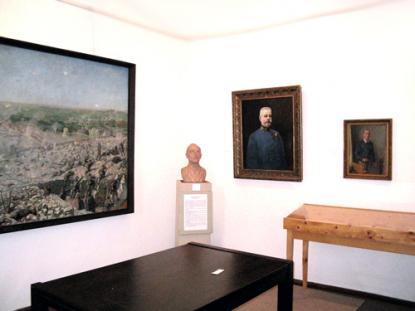 He graduated from the Arts Teacher Faculty of the Drawing School. He received state scholarship and studied at the Collage of Fine Arts with his master Ferenczy Károly. He received scholarship the following two years which he used to experiment. He travelled to Munich, Italy and Paris. After returning home, he began to work in Békéscsaba and Gyoma while he was developing his style. He joined the colony of artists of Szolnok. He managed to reseed the spirit of Nagybánya at the Planes.
He was a military painter during WWI. He was in a company with Kisfaludy Strób, Frank Frigyes, Márffy Ödön. He did not stop working during the war. He bought several pictures from the Museum of Military History. However, most of these were destroyed in 1945. The artist was the most fruitful in the twenties and thirties. He also lived a social life of an artist. He was the secretary of the Szinyei Society because he believed he served good purpose by supporting young talents. The critic Jajczai János praised him for his professional knowledge, elegant style and airy compositions soaked with silent romanticism and pathos.
The Hungarian National Gallery owns twenty of his pictures. Five of his canvases ornament the Parliament. The most significant of these is entitled "The Alexander Palace". After the success of an exhibition organized in the Csók István Gallery in 1961, he received the Golden Degree of the Munkácsy Prize in 1966. He lived ninety years which he spent with work. The result of this was over two thousand artworks. He died on 6 February 1973.