Béla Vidovszky Region History Collection (Town Gallery)
- Gyomaendrőd
Address:

5500, Gyomaendrőd Kossuth u. 11.

Phone number:

(66) 282-067, (70) 418-7133

Opening hours:

01.01-31.05, 01.09-31.12.: Mon, Wed, Fri 13-18, Tue, Thu 8-12
Museum tickets, service costs:
| | | |
| --- | --- | --- |
| Ticket for adults | 400 HUF | |
| Ticket for students | 200 HUF | |
| Ticket for pensioners | 200 HUF | |
Corini Margit was born in 1897 in Kolozsvár in the art loving Sóváry family. She took on the French sounding name with respect of her brother, the famed sculptor Sóváry János. Corini lived in Paris for 15 years. She began to take painting seriously at the age of 26.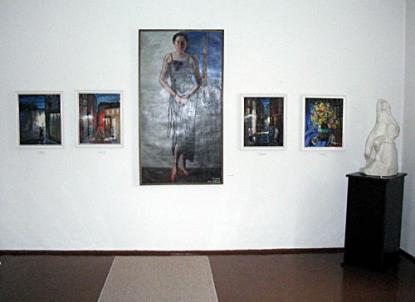 Corini's first success in Paris came at the autumn exhibition of the Salon D' Automne in 1930 with her picture entitled "Paris at Night". In 1931 pictures by her were selected to all three exhibitions of the Grand Salon. The year 1932 brought her success in Hungary too. She showed thirty pictures in a ward for only her pictures at the National Salon. Critics praise her pictures which were "modern, but without decadence". She was an extravagant personality. She wore a monocle, man's suit, tie, smoke cigar but at the same time she could also behave as a lady and could be a favourite of a Monte Carlo society.
Recklessness and moderation were both mirrored in the colours and compositions she used. Her favourite topic was the night in Paris, the lonely planets of the night, three towers of the Sacré Cour, light mirrored on the wet pavement, small little inns, cafés etc. The colours bright red and dark blue rule her canvas and a women with a red hat on is, she herself, almost always present. In 1952 as an unwanted person in society she was deported from Budapest. This is how Corini Margit ended up in Gyoma.
In 1976 exhibitions were opened of her paintings in several towns of the Planes. In 1978 at the 4th Film Parade of the Planes, Szabó Gerzson received the special prize for his interview with Corini Margit. The same year, Vitray Tamás introduced her to the audience in large in his TV show. Her last years were gilded by this success towards the end of her life. She lived in Gyoma until her death in 1982.