Geological Museum of Hungary - Geological Institute of Hungary
- Budapest
Address:

1143, Budapest Stefánia utca 14.

Phone number:

(1) 251-0999

Opening hours:

Thu, Sat-Sun 10-16

(Other times are available for groups on prior notice)

Closed on bank holidays!
Museum tickets, service costs:
Ticket for adults

(with guide, on weekdays)

2000 HUF

Ticket for students

(with guide, on weekdays)

1500 HUF

Group ticket for students

(guidance is provided on weekdays, min. 10 people)

5000 HUF

Ticket for pensioners

(with guide, on weekdays)

1500 HUF
As a part of the Mineralogical Collection in the Geological Institute of Hungary the Cherepy Collection was created by a gift of Louis Cherepy the chief environmental supervisor in the northern region of New Jersey State, USA. This exceptionally valuable collection contains fluorescent minerals from the world famous Franklin-Sterling iron and zinc ore deposits of New Jersey and also some relies from the history of mining and industrial activity in that region.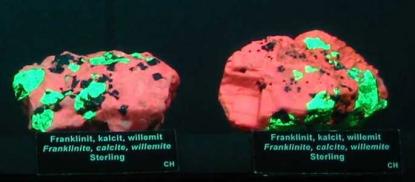 Visiting the exposition of luminous minerals is recommended to all of those who wish to be aquainted with extraordinary miracles of nature. It will be a lasting event to enjoy the dazzling colors of the minerals from one of the richest site of fluorescent minerals in the world. This experience is made possible by to those hard working emigrant Hungarian miners who working in the famous mines collected during many decades the valuable material donated now to their native country, together with the historical relics document the everyday life of the emigrant Hungarian miner families.
Those minerals are liable to fluorescence which have some defects in their crystal-lattice and the places of defects are filled in by metal atoms. These metal atoms are ready to interact with ultraviolet radiation, their electrons going to higher energy level during to radiation and emitting the fluorescent light when falling back to the original level after the radiation has been completed.
The world famous ore deposit is well known also by the great variety of its minerals. About 10 portents of the species of all known minerals are to be found there, 69 new species of minerals were described there and 35 of these cannot be found elsewhere. The geological structure of the 1,1 billion years old ore deposit is also unique.