Ópusztaszer National Historic Memorial Park
- Ópusztaszer
Address:

6767, Ópusztaszer Szoborkert 68.

Phone number:

(62) 275-133 /103, (62) 275-133 /104

Opening hours:

01.04-30-10.: Tue-Sun 10-18

01.11-30.03.: Tue-Sun 10-16 (Skanzen, external exhibiton closed)

The current fare for those interested informed about the institution's website: www.opusztaszer.hu
The first attempts to school the children living in the fringes of the South of the Great Planes took place in the 1840's. First, the journeymen and the soldiers thought the kids to read and count in a room of a homestead.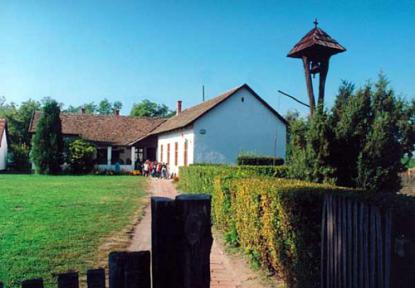 The first temporary school of the homesteads opened in 1853 in the outskirts of Szeged. Soon other towns did the same. In 1888-89, 24 of these schools functioned around Szeged.
In 1980, the first school of the homesteads were either deconstructed or rebuilt so the colleges of the Museum of Szeged moved a school built in 1911 from Árpádhalom to the open-air collection. The base of the building was made of freestone, the walls were made of loam, and the roof was covered with shingle. The ceiling was covered with wooden beams, the floor with wood. The display room contains the maps, school tools, benches, and colored pictures used at the schools. In the classroom of Pusztaszer-Árpádhalm sometimes 80-100 children crowded in the benches.
The history of the school can be seen in the flat of the teacher. The people living at the area erected a cross and a bell in front of the school. These people rarely went to church since they were too far, and the priests of the Roman Catholic Church held sermons in the schools. At wintertime, the teachers gave lecture on hygiene and economics. The teacher of a homestead, as Géza Gárdonyi wrote, was a 'lamp' for the people. He was spreading culture to the people who live far away from the larger towns.