Scientific Collections of the Trans-Danubian Calvinist Church - Museum
- Pápa
Address:

8500, Pápa Fő u. 6–8.

Phone number:

(89) 311-014, (89) 310-193

Opening hours:

01.11-30.04.: Tue-Fri 8-16

01.05-31.10.: Tue-Fri 8-16, Sat-Sun 9-17
Museum tickets, service costs:
| | | |
| --- | --- | --- |
| Ticket | 300 HUF | |
| Ticket for adults | 500 HUF | |
| Ticket for students | 300 HUF | |
| Ticket for pensioners | 300 HUF | |
| Group ticket for assemblies | 150 HUF | |
The largest part of our exhibition includes textiles and clenodium vessels. The nicest pieces are shown in the main building at a representative exhibition.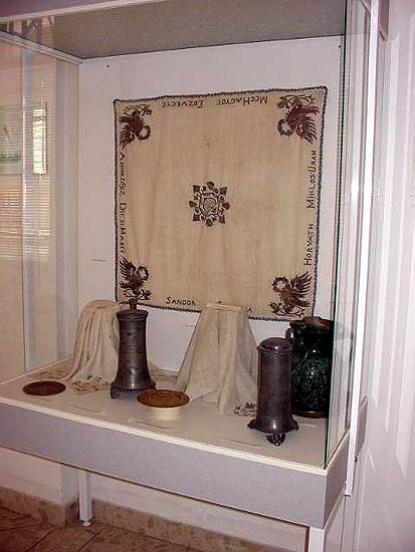 The objects of liturgy made in the 16-20th century are not used at sermons nowadays. They help us peep into the style of the art of the church, the technique of applied art in different periods. They also give a comprehensive picture of the reformed congregation of Transdanubia, its financial situation, and show the credit of the reformed congregations of the region.
Among the objects of goldsmiths, we find a few chalices from before the Reformation, which were used and saved by the community. Later the community converted into Reformation. Beside these mainly Gothic glasses made in the 15-16th century, Renaissance objects of the 17th century and Baroque objects of the 18th century are shown. The early clenodiums made of copper or silver were richly ornamented which showed the financial situation of their donators. The dishes of communion table are puritans: they are made of tin, only their forms and ornamentation differ.
Most of the textiles were made in the 17th century. The characteristic motifs of them were taken from the harmonic rations and the plant motifs of the Italian Renaissance beside the employment of eastern, mostly Turkish ornamentations.
Most of the chalices were made in Hungarian shops; in many cases, the name of the master is known. The Reformed Congregations of Transdaubia were supplied with objects of liturgy by masters of Komárom and Gödöllő: György Szentjóbi, János Váradi Eötvös, and János Szívós in the 17th century, Mihály Nánási of Veszprém, Antal Kopf of Pápa, Sámuel Pétsvárady of Komárom, Péter Árvay, János Büttösi of Debrecen, and Mihály Csima of Tata from the 18th century are the names most widely known.
The tin vessels were made in Upper Hungary, but we also found some made in Győr and Sopron.