Ópusztaszer National Historic Memorial Park
- Ópusztaszer
Address:

6767, Ópusztaszer Szoborkert 68.

Phone number:

(62) 275-133 /103, (62) 275-133 /104

Opening hours:

01.04-30-10.: Tue-Sun 10-18

01.11-30.03.: Tue-Sun 10-16 (Skanzen, external exhibiton closed)

The current fare for those interested informed about the institution's website: www.opusztaszer.hu
The shop of the artisans built in the third quarter of the 19th century was moved from the outskirts of Hódmezővásárhely to the skanzen. The tools of many centuries can be seen in the forge. The master was shoeing a horse, and fixing tools of agriculture, coaches. The peasants often paid with crop for his work.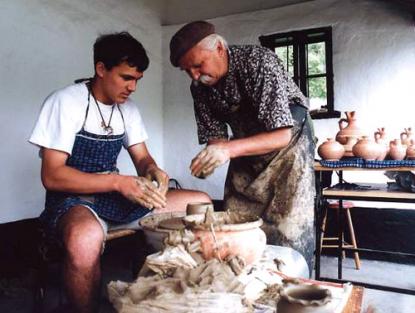 The cartwright worked in the back part of the building. This trade was closely connected to the smiths since they worked together on making a coach or cart. Next to these two shops full of tools of saddlers and harness are displayed. An oil canvas, which was the sign of a master of Szeged 90-100 years ago, is also shown.
Next to the workshops in the shed vehicles pulled by horses and oxen can be seen. A green cart made by a famous coach maker of Dorozsma is very interesting. The coach maker masters of the South Great Plane created the coaches with spiral around the turn of the century. This coach was famous among the peasants who took their products, grapes, fruit, diary products etc to the market.
A variant of the coach with spiral was the 'szandlaufer'. It was a light car made to travel on sand. Its owner took real care of it and thus it was only used in weddings. The carriage, the so called 'riplis sarabán', was also elaborately worked ornaments on. These usually belonged to the richer families.
The eminent piece of the collection is the black carriage made in the Kölber Factory in 1928.