Göcsej Museum
- Zalaegerszeg
Address:

8900, Zalaegerszeg Batthyány utca 2.

Phone number:

(92) 346-736

Opening hours:

Temporarily closed.
Museum tickets, service costs:
Ticket for adults

600 HUF

/ capita

Group ticket for adults

(min. 8 people)

400 HUF

/ capita

Ticket for students

300 HUF

/ capita

Ticket for pensioners

300 HUF

/ capita

Ticket for families

(2 adults + 2 children)

1200 HUF

/ family

Group guide

(in more languages)

4000 HUF

/ group
Zsigmond Kisfaludi Strobl is one of the most significant Hungarian sculptors of the 20th century. He was born in Alsórajk in Zala County as the son of a poor man. His talent that showed early could evolve via a scholarship he won at age twenty. He attended the National Drawing School during 1905-1908. He first showed his artworks in 1905. His first success came in 1912 with his statue "Finale" for which he received the Rudics Award. He then travelled to Florence, Rome, London, Paris.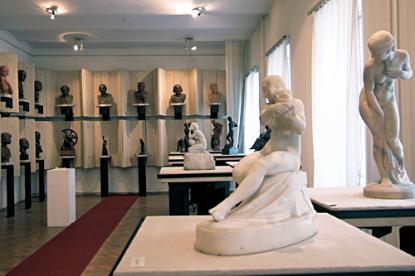 At a young age he preferred portraits and nudes. After WWI he was among the most looked for public statue sculptors. In 1924 he was offered teaching job at a collage. He kept on teaching for the next three and a half decades. He travelled to England and America in 1927-28. His art was awarded in Philadelphia and received the golden key of the town of Pittsburgh. From 1931 to 1937 he was commissioned by the Princess Elizabeth, the Prince George, G. B. Show, Jan Hamilton, etc. His success in England and the Golden Diploma he received in Paris for his "Ad Astra" gave him fame in Hungary too.
After WWII he was still a favoured artist. He made the monumental Statue of Liberty on Gellért Hill and the Kossuth Statue on Kossuth Square. A collective exhibition was organized of his statues in 1954 in the Hall of Arts in Budapest. This exhibition was also shown in several towns of the Soviet Union, Prague and Bratislava. A permanent exhibition opened showing his works in the Göcsej Museum in Zala County.
Zsigmond Kisfaludi Strobl preferred classic academic style except in his youth. According to him, "The real master of art is the great nature". His fine sensitive nudes, deep portraits, well composed moving statues make his one of the best artists of his era.